Il regista e sceneggiatore di Lamù rilascerà l'opera ad Agosto
In occasione del suo 69esimo compleanno, il regista e sceneggiatore Mamoru Oshii rilascerà un suo nuovo libro chiamato "Oshii Mamoru no Eiga 50-nen 50-pon", ovvero "I film di Mamoru Oshii: 50 film, 50 anni". Il libro raccoglierà, come suggerisci il titolo, 50 saggi sui 50 film che più gli sono più cari, uno per ogni anno, partendo dal 1968 e arrivando fino al 2017.
Il libro verrà rilasciato il prossimo 8 agosto 2020 e alcuni dei saggi contenuti in esso sono già disponibili online sul sito di Mamoru, inclusi quelli su Blade Runner, Last Tango In Paris e One Upon A Time In The West.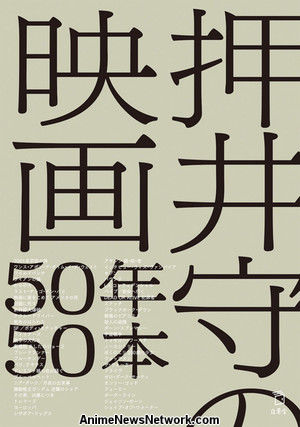 Ecco la lista completa dei film di cui si potranno leggere i saggi:
1968: 2001: A Space Odyssey
1969: Once Upon a Time in the West
1970: The Wild Bunch
1971: Ryan's Daughter
1972: Straw Dogs 
1973: Last Tango in Paris 
1974: Day for Night
1975: Pastoral: To Die in the Country
1976: The Bullet Train 
1977: Taxi Driver 
1978: Cross of Iron 
1979: Invasion of the Body Snatchers 
1980: The Warriors 
1981: The Dogs of War
1982: Tomorrow's Joe 2
1983: Blade Runner 
1984: Blue Thunder
1985: Paris, Texas 
1986: Bumpkin Soup 
1987: Blue Velvet
1988: Near Dark 
1989: Mobile Suit Gundam: Char's Counterattack 
1990: Violent Cop
1991: Tremors
1992: Europa 
1993: Reservoir Dogs
1994: Point of No Return
1995: Interview with the Vampire 
1996: Se7en 
1997: Bound
1998: L.A. Confidential 
1999: Babe: Pig in the City
2000: Dead or Alive 
2001: Snatch
2002: Black Hawk Down 
2003: The Pianist
2004: Memories of Murder
2005: The Bourne Supremacy
2006: Children of Men 
2007: No Country for Old Men 
2008: Let the Right One In 
2009: Watchmen
2010: The Book of Eli 
2011: Drive 
2012: Zero Dark Thirty
2013: Only God Forgives 
2014: Fury 
2015: Sicario 
2016: Jason Bourne 
2017: The Shape of Water
Mamoru Oshii è tutt'ora impegnato con la sua nuova serie Vlad Love che, stando alle ultime dichiarazioni, dovrebbe debuttare quest'anno.
Fonte: 1.
Per rimanere informati sul mondo nerd, continuate a seguirci sul nostro sito DrCommodore.it e su Facebook, Instagram, Telegram, YouTube, Discord, Steam e Twitch.
Se siete interessati ad anime e manga seguiteci sui nostri social dedicati: Facebook e sul canale Youtube!