Durante l'ultimo Black Friday uno degli articoli più richiesti e venduti è stata l'ultima console di casa Nintendo: Nintendo Switch. Le vendite a livello globale sono state enormi ma sembra che in Inghilterra ci siano stati dei seri problemi riguardo le spedizioni
Il fatto
Moltissimi utenti hanno lamentato tramite Twitter l'amara sorpresa di trovare qualcos'altro al posto della console o dei bundle di Nintendo Switch. Moltissimi utenti che avevano effettuato ordini durante Black Friday, si sono visti consegnare oggetti del tutto casuali e con un valore di mercato decisamente inferiore.
In tanti, inoltre, hanno manifestato il disappunto per l'impossibilità di riacquistare la console al vantaggioso prezzo di quel giorno.
Vi riportiamo di seguito alcuni tweet:
@amazon @AmazonHelp I am yet another person who ordered Amazon's offer for a Nintendo Switch and a game and was given random items. I got two disco balls. I've been emailing Amazon for days but they're refusing to send replacements. @DailyMailUK @TheSun pic.twitter.com/mJLgGOfOZw

— Yona Lesger (@YonaLesger) December 7, 2019
I had the same thing happen to me today. Ordered a Black Friday deal with a Nintendo Switch and a game but got this instead.
The kicker is they expect me to go out of my way not to return it as the item I ordered via Hermes and even tried to push a partial discount/refund back 😡 pic.twitter.com/EbF5jmu2Jz

— Paladin Shaz (@ThatBint) December 1, 2019
Really, well apparently this is a Nintendo switch. @AmazonHelp

I reported to Amazon, they clearly dont understand and just advised to send it back and reorder. Bearing in mind the deal I ordered on is no longer around. No concern about the theft@BBCSurrey @BBC @metpoliceuk pic.twitter.com/0a1ninjeqD

— Paul Addicott (@paul_addicott) December 1, 2019
Non solo spazzolini e microfoni
Oltre a comuni spazzolini, mattoncini LEGO e microfoni alcuni utenti si son visti consegnare anche dei profilattici e dei dispositivi Kindle.
Yo is this a sick joke? I ordered Nintendo Switch Joy-Cons and send me fucking condoms…. pic.twitter.com/8ftaw5j0n8

— Hughesy (@TheRealHughesy) October 10, 2019
so when you order a Nintendo switch with a load of games and @amazon @AmazonHelp send you these instead pic.twitter.com/Wk0JFyvSdb

— JACOB (@jakerey1) December 6, 2019
Gli innumerevoli errori logistici sono stati segnalati non solo tramite Twitter ma anche attraverso la pagina Facebook, dove in molti hanno lamentato errori clamorosi come ad esempio  il vedersi consegnare un pacco di batterie e del deodorante da bagno, come possiamo vedere dalla seguente foto.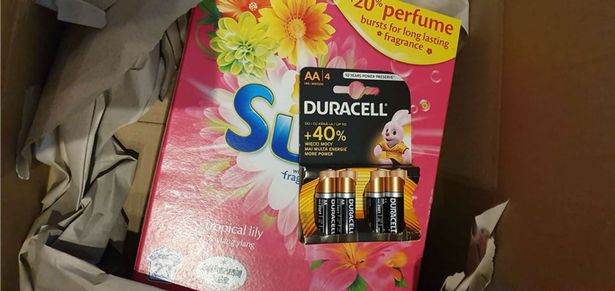 La risposta di Amazon
Amazon è corsa immediatamente ai ripari. Dopo le scuse formali l'azienda ha garantito la totale sostituzione della merce.
Un portavoce ha dichiarato che i clienti verranno contattati singolarmente per capire dove è avvenuto l'errore e correggerlo. Inoltre ha esortato chiunque si trovasse nelle stesse condizioni a contattare il servizio clienti per avere assistenza immediata.L'azienda ha inoltre dichiarato di aver avviato delle indagini interne per capire cosa sia andato storto.
Vi aggiorneremo se ci saranno ulteriori sviluppi. Stay tuned.
Per rimanere informati sul mondo nerd, continuate a seguirci sul nostro sito DrCommodore.it e su Facebook, Instagram, Telegram, YouTube, Discord, Steam e Twitch.