Un nuovo record per Games Of Thrones e la sua prossima battaglia!
Lo show di HBO è famoso per le battaglie e sicuramente le riprese non sono cosa da poco, considerando le varie comparse, le condizioni atmosferiche e non, le coreografie ed eventuali animali. Le battaglie di Games Of Thrones con le riprese più lunghe, finora, sono state l'imboscata ai Lannister di ritorno da Alto Giardino e la Battaglia dei Bastardi, durate un mese ciascuna.
Tra un anno però vedremo l'ultima battaglia di Grande Inverno, che ha tenuto impegnato la troupe e il cast per 55 notti consecutive, sul set di Moneyglass a Toome e sul set con green screen di Magheramorne.
La notizia è arrivata dopo il festeggiamento da parte della troupe per la fine di queste riprese difficili, condividendo sui social una nota di ringraziamento ai vari produttori, tra gli altri Jonathan Quinlan, aiuto regista di 20 episodi, che riporta:
Questo è per i Draghi della Notte. Per aver resistito 55 notti di fila. Per aver sopportato il freddo, la neve, la pioggia, il fango, la merda delle pecore di Toome e i venti di Magheramorne. Quando decine di milioni di persone al mondo vedranno quest'episodio tra un anno, non sapranno quanto duramente abbiate lavorato. Non gli importerà di quanto eravate stanchi o di quanto fosse difficile fare il vostro lavoro con temperature polari. Capiranno solo che stanno vedendo qualcosa mai fatto prima. E questo grazie a voi. Grazie, i vari produttori.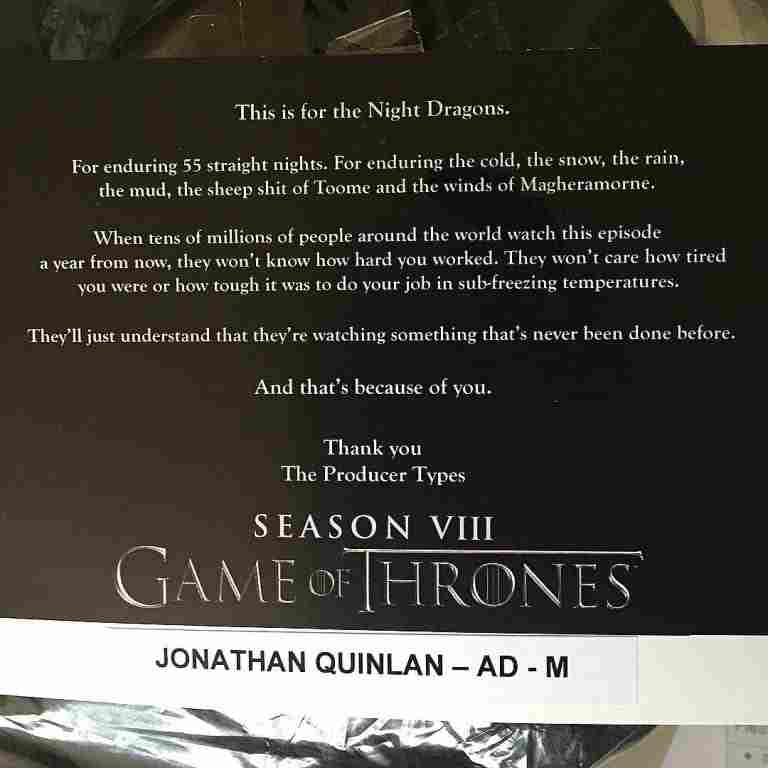 Per rimanere informati sul mondo nerd, continuate a seguirci sul nostro sito DrCommodore.it e su Facebook, Instagram, Telegram, YouTube, Discord e Twitch.