Uno degli aspetti che hanno fatto la storia dei precedenti FIFA (ora EA Sports FC 24) è certamente la colonna sonora: come possiamo dimenticare pezzi "storici" come Love me Again di John Newman o Cocoon di Catlefish and The Bottlemen? Poche ore fa è stata rivelata ufficialmente la soundtrack del nuovo titolo, in arrivo il 29 settembre.
L'annuncio è arrivato tramite un post del sito ufficiale di EA e possiamo già trovare la playlist Spotify ufficiale che racchiude tutte le canzoni che accompagneranno le nostre partite al nuovo simulatore del gioco del calcio. Tra i grandi artisti presenti abbiamo anche una rappresentante tutta italiana: andiamo a scoprire insieme da quali canzoni è composta la playlist.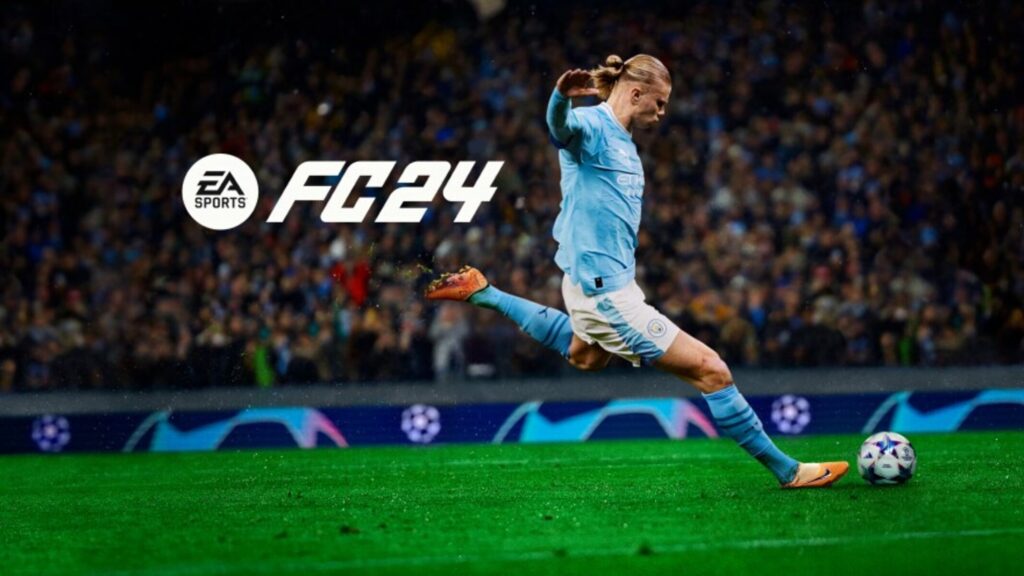 Una colonna sonora stellare per EA Sports FC 24
Ecco l'elenco di tutte le canzoni che saranno presenti nel gioco finale. Tra queste troviamo grandi nomi come The Rolling Stones, Kendrick Lamar e una piccola… Ariete!
| | | |
| --- | --- | --- |
| 070 Shake | Black Dress | |
| 2hollis | Poster Boy | |
| ARIETE | AVVISO | |
| Ashnikko | Worms | |
| Awich | RASEN in OKINAWA | |
| Baby Keem & Kendrick Lamar | The Hillbillies | |
| Baby Mala | 1, 2 & MER | |
| Baby Queen | We Can Be Anything | |
| Barry Can't Swim ft. Surya Sen | Always Get Through To You | |
| Bas ft. J. Cole | Passport Bros | |
| Belters Only & Micky Modelle ft. Simone Denny | Superstar | |
| Bianca Oblivion, Eliza Legzdina | EZ 4 Me | |
| blackwave., Lute | cracked screen | |
| Bree Runway | THAT GIRL | |
| Channel Tres | 6.00 | |
| Charlie Brix ft. DRS & Visages | I Can't Stay | |
| Charlotte Devaney | My Way | |
| Dahi & Elmiene | Shame | |
| DameDame* | A Stranger | |
| Disrupta | Dreaming Of You | |
| Doktor ft. Serum & Agent Sasco | Why You Waiting | |
| DROELOE, IMANU | Catalyst | |
| DRS, Duskee & Disrupta | Waiting To Go | |
| Dumb Buoys Fishing Club ft. Joe Unknown and Merlin Wood | FORMULA | |
| Effy ft. Flowdan | Stone | |
| English Teacher | The World's Biggest Paving Slab | |
| Ezekiel | there she goes | |
| Fliptrix | So Clear | |
| Freq Motif x Magugu | Tings My Way | |
| Frost Children | FLATLINE | |
| Gardna | R.A.V.E.A.S.A.P (Unglued Remix) | |
| Genesis Owusu | What Comes Will Come | |
| Gus Dapperton | The Stranger | |
| Hak Baker | DOOLALLY | |
| Halogenix ft. Sparkz | Sekkle In | |
| Hava ft. Dardan | Killa | |
| Higgo & mustbejohn | I Just Wanna Dance | |
| Hypho, Ternion Sound, PAV4N & Strategy | Relentless | |
| ill peach | HOLD ON | |
| Illaman & Pitch 92 ft. PAV4N | Absolutely Tidy | |
| IMANU & Tudor | Haunt My Mind (Machinedrum Remix) | |
| Jack Harlow | They Don't Love It | |
| Jeshi ft. Obongjayar and WESTSIDE BOOGIE | Protein v2 | |
| Jords ft. Jordan Mackampa | FIST IN THE SKY | |
| Kah-Lo | Get It | |
| Kaleena Zanders & Shift K3y | Vibration | |
| Karma Kid | The Gates Will Open | |
| Karol G | BICHOTAG | |
| KayCyy | Who Else Would It Be | |
| Killer Mike, El-P, thankugoodsir | DON'T LET THE DEVIL | |
| King | We Are The Ones | |
| King Krule | Seaforth | |
| La Fine Equipe, Gaël Faye | Pemmican | |
| Lovejoy | Portrait Of A Blank Slate | |
| M83 | Amnesia | |
| Major Lazer and Major League Djz ft. Brenda Fassie | Mamgobhozi | |
| Mandy, Indiana | Pinking Shears | |
| Matata ft. Liam Bailey | Not Today | |
| MEDUZA ft. Sam Tompkins & Em Beihold | Phone | |
| Michaël Brun, Paul Beaubrun, Cimafunk | Oh Ah | |
| Miss Grit | Follow the Cyborg | |
| Myke Towers | LALA | |
| Ninho ft. Central Cee | Eurostar | |
| Obongjayar | Who Let Him In | |
| ODESZA & Yellow House | Heavier | |
| Overmono | Good Lies | |
| P Money x Whiney | Lowkey | |
| Pahua x Barzo | Sigo Tus Pasos | |
| Peter Xan | Hostage | |
| piri & Tommy Villiers | nice 2 me | |
| POLICE CAR COLLECTIVE | EYELIDS | |
| Pontypool | Powder | |
| Rod 3030 | O Que Se Leva | |
| Romy | The Sea | |
| Roosevelt | Fall Right In | |
| Royel Otis | Going Kokomo | |
| Run the Jewels ft. Baco Exu do Blues | fuera de vista (TROOKO's Version) | |
| salute | Wait For It | |
| Sam Gellaitry | Assumptions (Jengi Remix) | |
| Shakes | Better Than I? | |
| Sid Sriram | The Hard Way | |
| Skinny Local, Cartel Madras | MMM | |
| Skrillex, Fred again.., Flowdan | Rumble | |
| SLUMBERJACK ft. The Kite String Tangle | Paradox | |
| Smino | Pro Freak (with Doechii, Fatman Scoop) | |
| Snakehips & Tkay Maidza | Show Me The Money | |
| Soo Joo, Hudson Mohawke | Running Water | |
| Souls Of Creation x Bobbie Johnson | I Go Get It | |
| Stormzy | Longevity Flow | |
| Strategy & Footsie | Kwik Wontoo | |
| swim school | BORED | |
| The Blaze | LONELY | |
| The Blessed Madonna ft. Jacob Lusk | Mercy | |
| The Last Dinner Party | Nothing Matters | |
| The Rolling Stones | Angry | |
| WALKER. | TOMMY | |
| whenyoung | Gan Ainm | |
| Willo & niina | i've got a bf (best friend) | |
| Winston Surfshirt ft. Young Franco | Complicated | |
| Yaeji | For Granted | |
| Young Eman | Eazi | |
| Zack Bia ft. Lil Yachty | One Of Those Days (with 347aidan) | |
| Zakes Bantwini ft. Kasango | Osama (Bruno Be, Ralk Rework Edit) | |