Il 2021 è stato un anno pieno di cartoni interessanti, e il 2022 sembra essere altrettanto nonostante sia partito con una stagione invernale che molti hanno percepito come tiepida.
Anni fa su YouTube c'era un canale che pubblicava degli AMV di pochi minuti con scene provenienti da alcune serie trasmesse nel corso dell'anno, e quest'anno quel tipo di video hanno trovato un erede. L'utente Static Symphony ha pubblicato infatti un video intitolato 2021 Animash, che si tratta di un gigantesco mashup di canzoni provenienti da anime trasmessi nel corso dello scorso anno.
Il numero totali di canzoni presenti nel video è di 170, tra opening, ending e insert song. L'utente ha dichiarato di averci impiegato 3 mesi per realizzare il video (che ha una durata di ben 20 minuti), e che per lui è stato un modo per sfidare se stesso nel tentativo di creare un mashup molto più grande del suo "Decade Animash". Static Symphony rivela infine che questo è il progetto più difficile a cui abbia mai lavorato, e spera che piaccia al pubblico.
Di seguito vi lasciamo una lista di tutte le canzoni presenti nel video (nome della canzone a destra e nome della serie da cui proviene a sinistra):


I'm Standing on a Million Lives 2nd Season – Baddest.
2.43 Seiin High School Boys' Volleyball Team – Mahi.
86 – 3-pun 29-byou.
Arcane – Enemy.
Back Arrow – Dawn.
Backflip!! – Seishun no Enbu.
Beastars 2nd Season – Yasashii Suisei.
Beastars 2nd Season – Kaibutsu.
Belle – U.
Black Clover – Grandeur.
Blue Period – EVERBLUE.
Blue Reflection Ray – AtoK.
Remake Our Lifes! – Koko kara Saki wa Uta ni Naranai.
Boruto: Naruto Next Generations – Baku.
Boruto: Naruto Next Generations – Gamushara.
Build Divide: Code Black – BANG!!!.
Burning Kabaddi – Fire Bird.
Cardfight!! Vanguard: OverDress – ZEAL of proud.
Cheat Kusushi no Slow Life: Isekai ni Tsukurou Drugstore – Kokoro Hayaru.
Deatte 5-byou de Battle – No Continue
Deep Insanity: The Lost Child – Inochi no Tomoshibi
Dr. Stone: Stone Wars – Rakuen
Dragon Quest: The Adventure of Dai – Akashi
Dragon, Ie wo Kau – Role-Playing
Edens Zero – Eden Through the Rough
Evangelion: 3.0+1.0: Thrice Upon a Time – One Last Kiss
Fairy Ranmaru: Anata no Kokoro Otasuke Shimasu – Ayashiku Get your heart
Fate/Grand Carnival – Super☆Affection
Fena: Pirate Princess – Umi to Shinjuu
Fruits Basket: The Final – Pleasure
Full Dive: This Ultimate Next-Gen Full Dive RPG Is Even Shittier than Real Life! – ANSWER
Gekidol – Gekidol!
Genjitsu Shugi Yuusha no Oukoku Saikenki – Hello Horizon
Gintama: The Final – Wadachi
Godzilla: Singular Point – In Case
Gyakuten Sekai no Denchi Shoujo – Fever Dreamer
Hanma Baki: Son of Ogre – Treasure Pleasure
Cells At Work Black – Hashire!.
Cells At Work Second Season – Go! Go! Saibou Fiesta
The Heike Story – Hikaru Toki
Heion Sedai no Idaten-tachi – Raika
Heion Sedai no Idaten-tachi – Seija no Koushin
Higehiro – Omoide Shiritori
Higurashi no Naku Koro ni Sotsu – Analogy
Horimiya – Iro Kousui
Hortensia Saga – Leader
How Not to Summon a Demon Lord Ω – Everybody! Everybody!
IDOLiSH7: Third Beat! – The Policy
Non Tormentarmi, Nagatoro – Easy Love
Restaurant to Another World Season 2 – Onnaji Kimochi.
The Great Jahy Will Not be Defeated! – Fightin★Pose
Jaku-Chara Tomozaki-kun (Bottom-tier Character Tomozaki) – Jinsei Easy?.
Le bizzarre avventure di JoJo: Stone Ocean – Stone Ocean
Jouran: The Princess of Snow and Blood – Exist
Jujutsu Kaisen – VIVID VICE
Kageki Shoujo! – Hoshi no Orchestra
Kai Byoui Ramune – Shake!Shake!Shake!
Kanojo mo Kanojo – Fuzaketenaize
Kanojo mo Kanojo – Pinky Hook
Kemono Jihen – Kemono Michi
Demon Slayer – Il film: Il treno Mugen – Homura
Demon Slayer: Mugen Train Arc – Akeboshi
Demon Slayer: Mugen Train Arc – Shirogane
King's Raid: Ishi wo Tsugumono-tachi – Eclipse
Kingdom Season 3 – STACKiNG
Miss Kobayashi's Dragon Maid S – Love Supreme!
Miss Kobayashi's Dragon Maid S – Maid with Dragons
Koikimo – Monoqlo City
Komi Can't Communicate – Cinderella
Kyoukai Senki – Enemy
The Vampire Dies in No Time – DIES IN NO TIME
Let's Make a Mug Too – Tobira wo Hiraketara
Link Click – Dive Back in Time
Log Horizon: Destruction of the Round Table – Different
Love Live! Superstar!! – START!! True dreams
Magia Record: Mahou Shoujo Madoka☆Magica Gaiden S2 – Careless
Mahouka Koukou no Yuutousei – 101
Mairimashita! Iruma-kun Season 2 – No! No! Satisfaction!
Mars Red – Seimei no Aria
Mashiro no Oto – Blizzard
Mazica Party – MAZI-ka
Megami-ryou no Ryoubo-kun. – Naughty Love
Meikyuu Black Company – Shimi
Mieruko-chan – Mienaikara ne!?
Mobile Suit Gundam: Hathaway's Flash – Senkou
Mushoku Tensei: Jobless Reincarnation – Only
MuteKing the Dancing Hero – Labyrinth
Muv-Luv Alternative – Rinne
My Hero Academia Season 5 – No.1
My Hero Academia Season 5 – Uso Janai
My Next Life as a Villainess: All Routes Lead to Doom! S2 – Andante ni Koi wo Shite!
My Senpai Is Annoying – Annoying! Sunsun week!
Night Head 2041 – Icy Ivy
Non Non Biyori Nonstop – Tsugihagi Moyou
Obey Me! – It's My Party
Odd Taxi – Odd Taxi
Ore dake Haireru Kakushi Dungeon – Pyramid Daigyakuten
Osamake: Romcom Where The Childhood Friend Won't Lose – Chance! and Revenge!
Osomatsu-san Season 3 – Mutsugo no Tamashii Nayuta Made
Ranking of Kings – BOY
Peach Boy Riverside – Dark spiral journey
Platinum End – Sense
Pretty Boy Detective Club – Shake & Shake
The Quintessential Quintuplets S2 – Gotoubun no Katachi
Re:Zero Season 2 Part 2 – Long Shot
Record of Ragnarok – KAMIGAMI
Redo of Healer – Zankoku na Yume to Nemure
Re-Main – Forget Me Not
The Faraway Paladin – Shirushibi
Sakugan – Koukotsu Labyrinth
Sankaku Mado no Sotogawa wa Yoru – Saika
Scarlet Nexus – Red Criminal
Seirei Gensouki – New Story
Sekai Saikou no Ansatsusha, Isekai Kizoku ni Tensei suru – Dark seeks light
Selection Project – Glorious Days
Combatants Will be Dispatched – No.6
Seven Knights Revolution – Hero Successor – Freeze
Shadows House – Nai Nai
Shaman King – Soul Salvation
Shikizakura – BELIEVE MYSELF
L'attacco dei Giganti: The Final Season (Attack On Titan: The Final Season) – Boku no Sensou.
Shinigami Bocchan to Kuro Maid – Mangetsu to Silhouette no Yoru
Banished from the Hero's Party, I Decided to Live a Quiet Life in the Countryside – Iki wo Suu Koko de Suu Ikite.
Shinka no Mi: Shiranai Uchi ni Kachigumi Jinsei – EVOLUTiON
Aquatrope of the White Sand – Tayutae, Nanairo
SK∞ – Paradise
So I'm a Spider, So What? – Bursty Greedy Spider
So I'm a Spider, So What? – Keep Weaving Your Spider Way
Sonny Boy – Shounen Shoujo
Sorcerous Stabber Orphen: Battle of Kimluck – LIGHT of JUSTICE
SSSS.Dynazenon – Imperfect
Star Wars: Visions – Galactic Dreamer
Super Cub – Mahou no Kaze
Sword Art Online: Progressive – Yuke
Taishou Otome Otogibanashi – Otome no Kokoroe
Takt Op. Destiny – Symphonia
Takt Op. Destiny – takt
The Detective is Already Dead– Koko de Ikiteru
Tesla Note – PUPPET'S
That Time I Got Reincarnated As A Slime S2 – Storyseeker
That Time I Got Reincarnated As A Slime S2 – Storyteller
That Time I Got Reincarnated As A Slime S2 – Reincarnate
The Promised Neverland Season 2 – Identity
The Promised Neverland Season 2 – Mahou
The Seven Deadly Sins: Dragon's Judgement – Hikari Are
The Slime Diaries: That Time I Got Reincarnated as a Slime – Brand New Diary
The World Ends With You The Animation – Twister
Tian Guan Ci Fu – Jiyuu no Kuchizuke
To Your Eternity – Pink Blood
Tokyo Revengers – Cry Baby
Tokyo Revengers – Koko de Iki wo Shite
Tokyo Revengers – Tokyo Wonder
Trese – Paagi
Tsuki ga Michibiku Isekai Douchuu – Gambling
Tsuki to Laika to Nosferatu – Hi no Tsuki
Uramichi Oniisan – ABC TAISOU
Uramichi Oniisan – Dream On
Urasekai Picnic – Minikui Ikimono
Uma Musume Pretty Derby Season 2 – Yume wo Kakeru
Vanitas no Carte – Sora to Utsuro
Visual Prison – Zankoku Shangri-La
Vivy: Fluorite Eye's Song – Sing My Pleasure
Vivy: Fluorite Eye's Song – Sing My Pleasure (Grace ver.)
Wave!!: Surfing Yappe!! – Shigeki Surfer Boy
Wonder Egg Priority – Life is Cider
Words Bubble Up Like Soda Pop – Words Bubble Up Like Soda Pop
World Trigger Season 2 – Force
World Witches Hasshin Shimasu! – Wanna Fly?
Yashahime: Princess Half-Demon – Burn
Laid-Back Camp Season 2 – Seize The Day
Yuuki Yuuna wa Yuusha de Aru: Dai Mankai no Shou – Ashita no Hanatachi
Moriarty The Patriot Season 2 – Omega
Moriarty The Patriot Season 2 – Twisted Hearts
Zombieland Saga: Revenge – Taiga yo Tomo ni Naitekure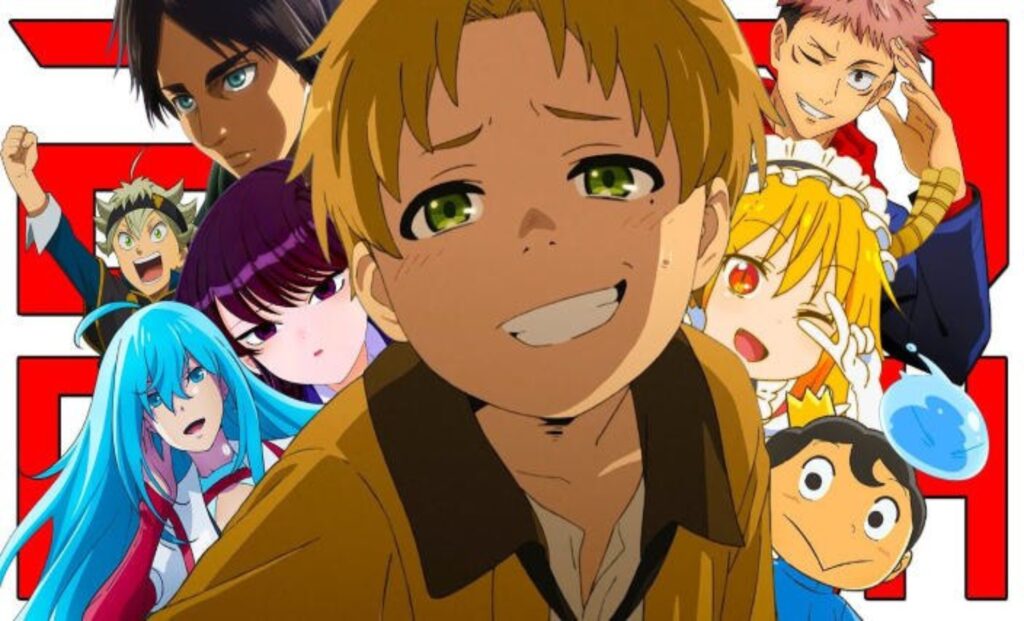 Cosa ne pensate di questo mashup? Scirvetcleo nei commenti!