Durante l'evento "Fantasia Bunko Kanshasai 2019" è stato anjhunciato che nla serie dio light novel Our Last Crusade or the Rise of a New World (Kimi to Boku no Saigo no Senjou, Arui wa Sekai ga Hajimaru Seisen) di Kei Sazane riceverà un adattamento animato.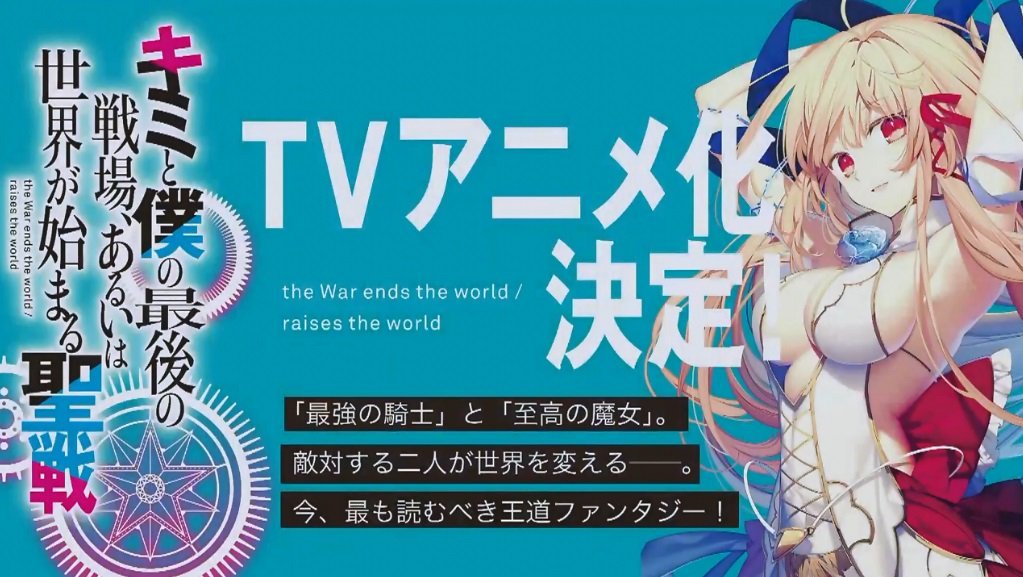 La storia vede al centro la guerra tra lo scientificamente avanzato Imepro e il reame delle ragazze magiche Nebulis. Il più forte cavaliere dell'Impero, Iska, incontra Aliceliese, la principessa della nazione rivale. Anche se sono nemici, i due rimangono affascinati l'uno dell'altro: il cavaliere finsce epr ammirare la bellezza e la dignità della ragazza, mentre questg'ultima ammira la forza e lo stile di vita del cavaliere.
Kadokawa ha in iziato a pubblicare i romanzi nel luglio 2017.
Per rimanere informati sul mondo nerd, continuate a seguirci sul nostro sito DrCommodore.it e su Facebook, Instagram, Telegram, YouTube, Discord, Steam e Twitch.
Inoltre continuate a seguire gli aggiornamenti su Anime e Manga nei social ufficiali dedicati: Instagram, Gruppo e canale Youtube!