Il sito streaming Crunchyroll ha finalmente divulgato il programma completo della stagione corrente. Di seguito tutte le serie comprese, con ora e giorno in cui esce l'episodio.
Lunedì
17:30 Mob Psycho 100 II
17:30 Vita da Slime
20:30 Kemono Friends 2
Saint Seiya: Saintia Sho (orario non specificato)
Martedì
12:25 Black Clover
13:00 Shonen Ashibe GO! GO! Goma-chan
16:00 Wataten!: An Angel Flew Down to Me
19:00 Rainy Cocoa: Side G
19:30 Rinshi!! Ekoda-chan
20:30 Run with the Wind
Mercoledì
16:30 The Rising of the Shield Hero
18:00 My Roommate is a Cat
18:00 Meiji Tokyo Renka
VIRTUALSAN – LOOKING (orario non specificato)
Giovedì
12:00 Fight League: Gear Gadget Generations
17:30  Girly Air Force
23:00 The Quintessential Quintuplets
Venerdì
15:00 Boogiepop and Others
16:30 A Certain Magica Index III
17:00 Hinomaru Sumo
17:00 The Price of Smiles
18:05 Le Bizzarre Avventure di JoJo: Vento Aureo
18:40 Domestic Girlfriend
20:00 Magical Girl Spec-Ops Asuka
Sabato
02:30 BONO BONO
12:15   Monster Strike the Animation
13:00  Ace Attorney Stagione 2
13:15   RADIANT
20:00 Katana Maidens – Mini Toji
23:30 Fairy Tail
Domenica
10:00 Boruto: Naruto Next Generations
17:45  How clumsy you are, Miss Ueno
18:00 MYSTERIA Friends
GeGeGe no Kitaro (orario non specificato)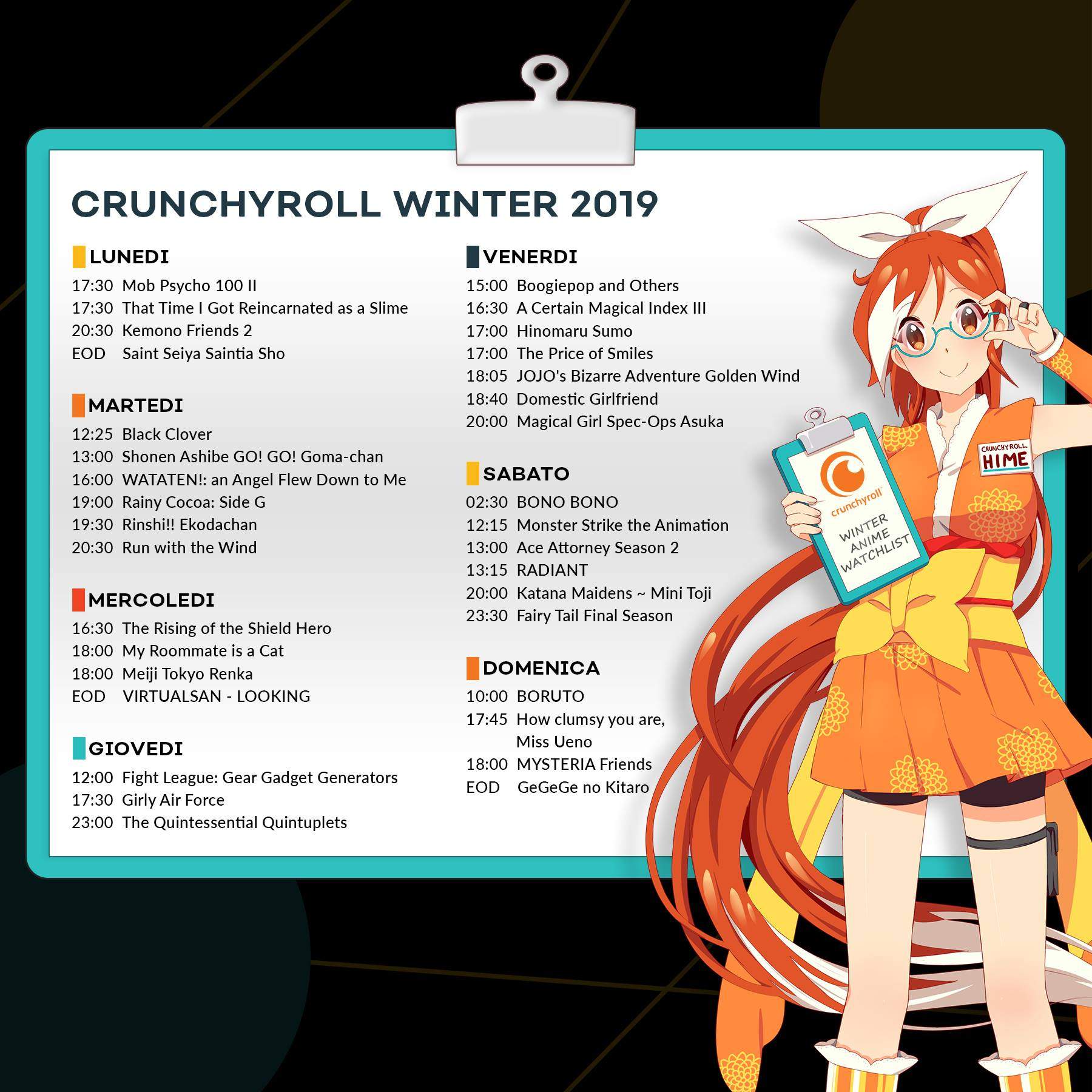 Quale serie state seguendo? Scrivetecelo nei commenti.
Per rimanere informati sul mondo nerd, continuate a seguirci sul nostro sito DrCommodore.it e su Facebook, Instagram, Telegram, YouTube, Discord, Steam e Twitch.