Il sito ufficiale di Love Live! Sunshine!! ha rivelato un'undicesima visual e una sinossi per il film Love Live! Sunshine!! The School Idol Movie: Over the Rainbow.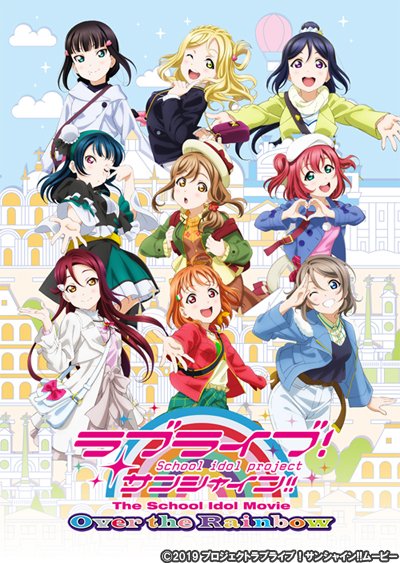 Sinossi (contiene alcuni spoiler sul dinale della seconda stagione dell'anime):
Mentre si stanno preparando ad iscriversi ad una nuova scuola, i membri delle Aqours di prima e seconda  incontrano un guaio inaspettato. Inoltre, i membri del terzo anno scompaiono dopo essere andate in un viaggio post-diploma. Mentre sono separate, i membri delle Aquors apprezzano per la prima volta il peso della loro unione. Per poter andare avanti, devono decidere come reagire alle loro nuove situazioni.
Il film avrà lo stesso cast e lo stesso staff delle due precedenti serie anime e verrà distribuito nei cinema giapponesi il 4 gennaio 2019. La prima stagione di Love Live!! Sunshine è disponibile in Italia sul canale YouTube di Yamato Animation.
Fonte: https://www.animenewsnetwork.com/news/2018-07-26/love-live-sunshine-anime-film-reveals-visual-story/.13471 .
Per rimanere informati sul mondo nerd, continuate a seguirci sul nostro sito DrCommodore.it e su Facebook, Instagram, Telegram, YouTube, Discord e Twitch.